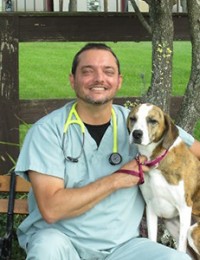 Veterinarian
Dr. Cesar Simon-Vazquez was born in Madrid, Spain. Due to the love he has for medicine and animals, he knew as he was growing up that being a Veterinarian was in his future.
Dr. Simon first began working on a rabbit farm in Spain around 1990, and then moved his way up through practicing as a freelance surgeon. In 1995 Dr. Simon began practicing as a veterinarian for a small animal practice. He moved to England, UK around 1998 and practiced veterinary medicine there for about 8 years. In 2008, he moved to Bastrop, Texas. In 2011 Dr. Simon passed his North American Veterinary Licensing. In 2013 he became certified through the Educational Commission for Foreign Veterinary Graduates. Lastly, in 2013, Dr. Simon became certified through the Texas Board of Veterinary Medical Examiners.
Dr. Simon has a son who was born in Austin, Texas. He also has a greyhound mixed breed, Flaca, which was rescued from the Houston SPCA. Last, but surely not to be least, he have a bearded dragon named Shaggy.
Dr. Simon enjoys spending time with his son. His is the joy of his life. If time allows, he will hit up the gym to get in a good workout. Dr. Simon also enjoys reading with a special interest in history, philosophy and psychology.
We are so pleased Dr. Simon is a part of our practice. Did I mention he is bilingual?