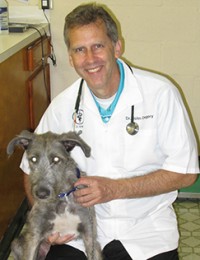 Veterinarian/Owner
Dr. John Gregory was born in Newport News, Virginia. He grew up around the Hobby Airport vicinity. His father brought his family to Texas as a part of the NASA beginnings back in 1962.He has lived in Pearland since 1996. Dr. Gregory graduated from Milby High School. In 1983, he graduated from the University of Houston with a degree in Accounting. Dr. Gregory then attended Texas A. & M. College of Veterinary Medicine in 1989 and graduated in 1993. WHOOP!
At home, Dr. Gregory has a wife, Ginger. As far as their furry family is concerned, they have one cat named Buddy, three dogs named Dalton, Scooter and Dash, and a tortoise named Cletis. Dr. Gregory also has 3 children–John, Johanna (who is a part of our staff), and Brian. Dr. Gregory is proud to announce that he is is "Papa" of 9 wonderful grandchildren, 7 girls and 2 boys.
Dr. Gregory has been a veterinarian for over 25 years and when asked why he chose to be a veterinarian, Dr. Gregory's response was genuine. "Since I was a small boy, I've always enjoyed working with animals. Being allowed to continue with this as a career is an awesome responsibility that is truly exciting and enjoyable."
When not wearing the white coat, Dr. Gregory enjoys time with his family. Dr. Gregory is also an avid Astro's fan….GO ASTROS! Dr. Gregory spends time helping out at the church he attends. As you can see, he is a very busy, productive man.